About Us
Rumbles Fish Bar is a Fish & Chips takeaway in Essex. Why don't you try our Tartar Sauce or Chicken Nuggets?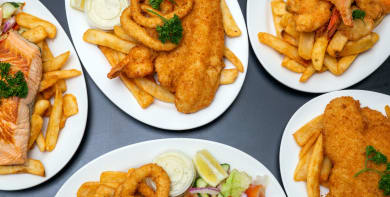 Reviews
227 reviews
Val
"Tasty and lovely and hot!"
31/07/2020
Daniel
"Really nice as usual, chips were bang on tonight, keep that up!"
15/07/2020
Andrew
"Quality food as usual and early to boot."
08/07/2020
Mrs
"The best take away around!"
04/07/2020
Menu
Chicken Fillet Burger Regular
£4.00
Chicken Fillet Burger With Cheese
£4.20
Half Pounder Bacon Burger Regular
£5.00
Half Pounder Bacon Burger With Cheese
£5.20
Half Pounder Burger Regular
£4.20
Half Pounder Burger With Cheese
£4.40
Vegetarian Burger Regular
£2.80
Vegetarian Burger With Cheese
£3.00
Quarter Pounder Bacon Burger Regular
£4.00
Quarter Pounder Bacon Burger With Cheese
£4.20
Quarter Pounder Burger Regular
£3.20
Quarter Pounder Burger With Cheese
£3.40
Rumbles Special Burger Regular
£5.60
Rumbles Special Burger With Cheese
£5.80
House Special Kebab
Chicken shish, lamb shish, kofte
Chicken & lamb doner, 3 pitta bread, salad & sauce
£18.00
Mixed Doner Meat & Chips Large
£8.00
Mixed Doner Meat & Chips Medium
£7.00
Chicken Meat & Chips Large
£7.50
Chicken Meat & Chips Medium
£6.50
Chicken Doner Kebab Large
£7.50
Chicken Doner Kebab Medium
£6.00
Chicken Shish Kebab Large
£8.50
Chicken Shish Kebab Medium
£6.50
Doner Meat & Chips Medium
£6.50
Combination Kebab
Any 2 mix
£9.00
Chicken Nuggets 06 Pieces
£3.50
Chicken Nuggets 10 Pieces
£4.50
Kids 5 Nuggets,Chips & Drink
£4.00
Kids Sausage, Chips & Drink
£4.00
Kids Seveloy, Chips & Drink
£4.00
Kids Doner Roll, Chips & Drink
£5.00
Kids Chicken Doner Roll, Chips & Drink
£5.00
Wrap Meal
Chicken wrap, chips & a can of soft drink
£6.00
Fillet Meal
Fillet burger, chips & can of soft drink
£6.00
Burger Meal
Quarter pounder burger, chips & can of soft drink
£6.00
Contact Us
Find Us
67 Station Lane, Essex, RM126JU
We deliver to
RM11, RM12, RM13, RM14