About Us
Rumbles Fish Bar is a Fish & Chips takeaway in Essex. Why don't you try our Tartar Sauce or Chicken Nuggets?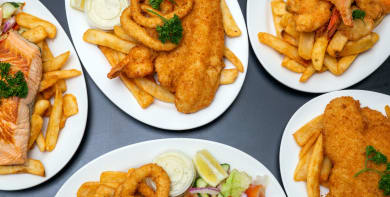 Reviews
249 reviews
Stewart
"Order my fish and chips every week, fresh, hot and always delicious."
30/10/2020
Peter
"Always great quality food..."
24/10/2020
Linda
"Used Rumbles before, happy to use again in the future"
23/10/2020
Sandie
"Delicious food and arrived early"
17/10/2020
Menu
Chicken Fillet Burger Regular
£4.00
Chicken Fillet Burger With Cheese
£4.20
Half Pounder Bacon Burger Regular
£5.00
Half Pounder Bacon Burger With Cheese
£5.20
Half Pounder Burger Regular
£4.20
Half Pounder Burger With Cheese
£4.40
Vegetarian Burger Regular
£2.80
Vegetarian Burger With Cheese
£3.00
Quarter Pounder Bacon Burger Regular
£4.00
Quarter Pounder Bacon Burger With Cheese
£4.20
Quarter Pounder Burger Regular
£3.20
Quarter Pounder Burger With Cheese
£3.40
Rumbles Special Burger Regular
£5.60
Rumbles Special Burger With Cheese
£5.80
House Special Kebab
Chicken shish, lamb shish, kofte
Chicken & lamb doner, 3 pitta bread, salad & sauce
£18.00
Mixed Doner Meat & Chips Large
£8.00
Mixed Doner Meat & Chips Medium
£7.00
Chicken Meat & Chips Large
£7.50
Chicken Meat & Chips Medium
£6.50
Chicken Doner Kebab Large
£7.50
Chicken Doner Kebab Medium
£6.00
Chicken Shish Kebab Large
£8.50
Chicken Shish Kebab Medium
£6.50
Doner Meat & Chips Medium
£6.50
Combination Kebab
Any 2 mix
£9.00
Chicken Nuggets 06 Pieces
£3.50
Chicken Nuggets 10 Pieces
£4.50
Kids 5 Nuggets,Chips & Drink
£4.00
Kids Sausage, Chips & Drink
£4.00
Kids Seveloy, Chips & Drink
£4.00
Kids Doner Roll, Chips & Drink
£5.00
Kids Chicken Doner Roll, Chips & Drink
£5.00
Wrap Meal
Chicken wrap, chips & a can of soft drink
£6.00
Fillet Meal
Fillet burger, chips & can of soft drink
£6.00
Burger Meal
Quarter pounder burger, chips & can of soft drink
£6.00
Contact Us
Find Us
67 Station Lane, Essex, RM126JU
We deliver to
RM11, RM12, RM13, RM14