About Us
Rumbles Fish Bar is a Fish & Chips takeaway in Essex. Why don't you try our Tartar Sauce or Chicken Nuggets?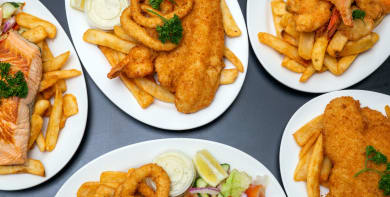 Reviews
240 reviews
Radha
"A few minutes late but not an issue"
16/04/2021
Ty
"Huge portions of fantastic flavoursome food."
14/04/2021
Joanne
"Great food as usual"
04/04/2021
Mark
"Easy to order and all very tasty, thanks Rumbles very nice indeed"
03/04/2021
Menu
1/4 Bacon Burger With Cheese
£4.40
1/2 Bacon Burger With Cheese
£5.40
Chicken Fillet Burger Regular
£4.30
Chicken Fillet Burger With Cheese
£4.50
Vegetarian Burger Regular
£3.30
Vegetarian Burger With Cheese
£3.50
Rumbles Special Burger Regular
£5.80
Rumbles Special Burger With Cheese
£6.00
House Special
Chicken shish, lamb shish, kofte
Chicken doner, lamb doner, 3 pitta bread, salad & sauce
£22.00
Mixed Doner Meat & Chips Large
£8.50
Mixed Doner Meat & Chips Medium
£7.50
Chicken Doner Meat & Chips Large
£8.00
Chicken Doner Meat & Chips Medium
£7.00
Chicken Doner Kebab Large
£7.50
Chicken Doner Kebab Medium
£6.50
Chicken Shish Kebab Large
£9.00
Chicken Shish Kebab Medium
£7.00
Doner Meat & Chips Medium
£7.00
Combination Kebab
Any 2 mix
£9.50
Sauces Sml
Chilli, Garlic, Mayonaise, Burger Sauce, Ketchup
£0.30
Sauces Lrg
Chilli, Garlic, Mayonaise, Burger Sauce, Ketchup
£1.00
Can of Soft Drink Coca-Cola
£1.00
Can of Soft Drink Dr.Pepper
£1.00
Can of Soft Drink Diet Coke
£1.00
1.5 Ltr Bottle of Soft Drink Pepsi
£3.00
1.5 Ltr Bottle of Soft Drink Coca-Cola
£3.00
1.5 Ltr Bottle of Soft Drink Dr.Pepper
£3.00
1.5 Ltr Bottle of Soft Drink Diet Coke
£3.00
1.5 Ltr Bottle of Soft Drink 7UP
£3.00
500ml Bottle of Soft Drink Pepsi
£2.00
500ml Bottle of Soft Drink Coca-Cola
£2.00
500ml Bottle of Soft Drink Dr.Pepper
£2.00
500ml Bottle of Soft Drink Diet Coke
£2.00
500ml Bottle of Soft Drink 7UP
£2.00
1.5 Ltr Bottle of Soft Drink Fanta
£3.00
1.5 Ltr Bottle of Soft Drink Tango
£3.00
500ml Bottle of Soft Drink Fanta
£2.00
500ml Bottle of Soft Drink Tango
£2.00
5 Nuggets, Chips & Drink Kids Meal
£4.00
Sausage, Chips & Drink Kids Meal
£4.00
Seveloy, Chips & Drink Kids Meal
£4.00
Doner Roll, Chips & Drink Kids Meal
£5.00
Chicken Doner Roll, Chips & Drink Kids Meal
£5.00
Wrap Meal
Chicken wrap, chips & a can of soft drink
£6.00
Fillet Meal
Fillet burger, chips & can of soft drink
£6.00
Burger Meal
Quarter pounder burger, chips & can of soft drink
£6.00
Contact Us
Find Us
67 Station Lane, Essex, RM126JU
We deliver to
RM1, RM11, RM12, RM13, RM14, RM2, RM3, RM7